Thinking about the Disney Dining Plan
Having eaten in Disney a lot, on our last trip we decided not to.  I don't mean that we undertook some sort of boycott; rather we didn't make any ADRs at all.  We were not taking advantage of the DDP, as we were staying off site, and also could ill afford the incredible weight gain that would have inevitably led us to.
We did of course eat in Disney at various counter service locations whilst on the go in the parks, but having eaten off site for almost two weeks I thought I would share our Top 5 off siters, if this is not sacrilege on a Disney based website?
In no particular order….
Applebees
We have enjoyed Applebees for several years now, and this year tried the new one on the 192 for the first time.  Our previous visits to the one on the US27 have all been good, and the newly opened venue did not let us down on either of the two visits we made during our last trip.
Despite having a server called Nature, who was just a little bit odd, Applebees serves up great quality food in large portions for a decent price.  For us Brits, it also ticks all the boxes for what we imagine a US diner to be.  Large screens with sports we don't understand, extrovert and friendly wait staff, and Norm from Cheers sat at the bar enjoying a beer (I can't guarantee this is every branch of Applebees!).
My personal favourite is the Ultimate Trio, as it delivers on both quality and quantity.  The boneless chicken is superb, and Louise, my wife, can personally recommend the cocktails, especially during happy hour.  They made her very happy.
Teak Neighbourhood Grill
This strikes me as a place that isn't really designed for the tourist trade.  It feels very different to the major chains, in a good way.  We went on a busy week night right at the start of the football pre-season.  Again, lots of confusing sports were on display, and the menu, as extensive as it was, quite frankly was irrelevant.  My pre-trip research meant that I was here for one thing and one thing only….The Donut Burger.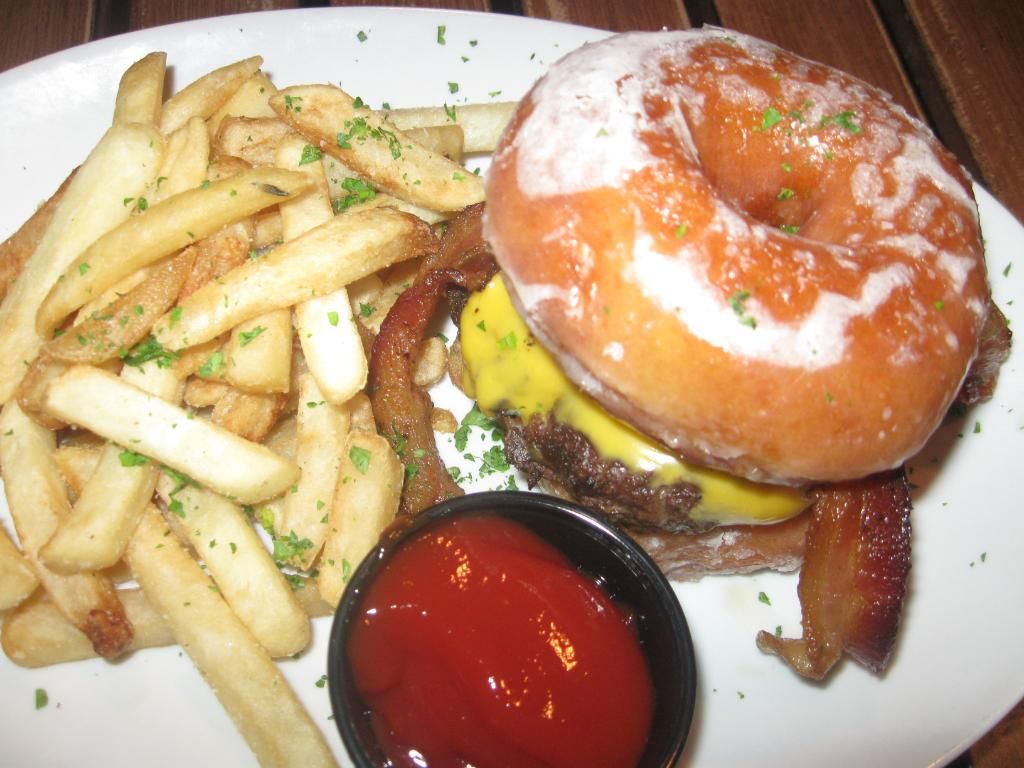 My daughter and I had this and were literally transported to a taste heaven that I can honestly say was beyond anything I have experienced before.  Reaction differs to the donut burger from all out revulsion to green eyed envy.  For me, two donuts sandwiching a lovely juicy burger is as close to perfection as food gets.  We savoured every mouthful, and we were genuinely sad to finish the meal.
The rest of the party had other dishes which were said to be lovely to, but I was lost in a sugar induced haze.  Go, try it!!
Bahama Breeze
A large chain of course, but they do vary.  Our regular is the one at LBV, which has always been a delight.  There is also a new one on the 192, but our experience there was a little below par, so this year we made sure we made the effort to get up to LBV.  We were rewarded with another stunning meal, from the ribs that I had, which were obviously from some sort of dinosaur sized creature, through to Rebecca's Key Lime Pie, which my daughter, Rebecca, orders every time, the food is consistently excellent.  My wife makes an annual pilgrimage to the Stuffed Pepper Goat's Cheese appetiser and no-one else gets a look in!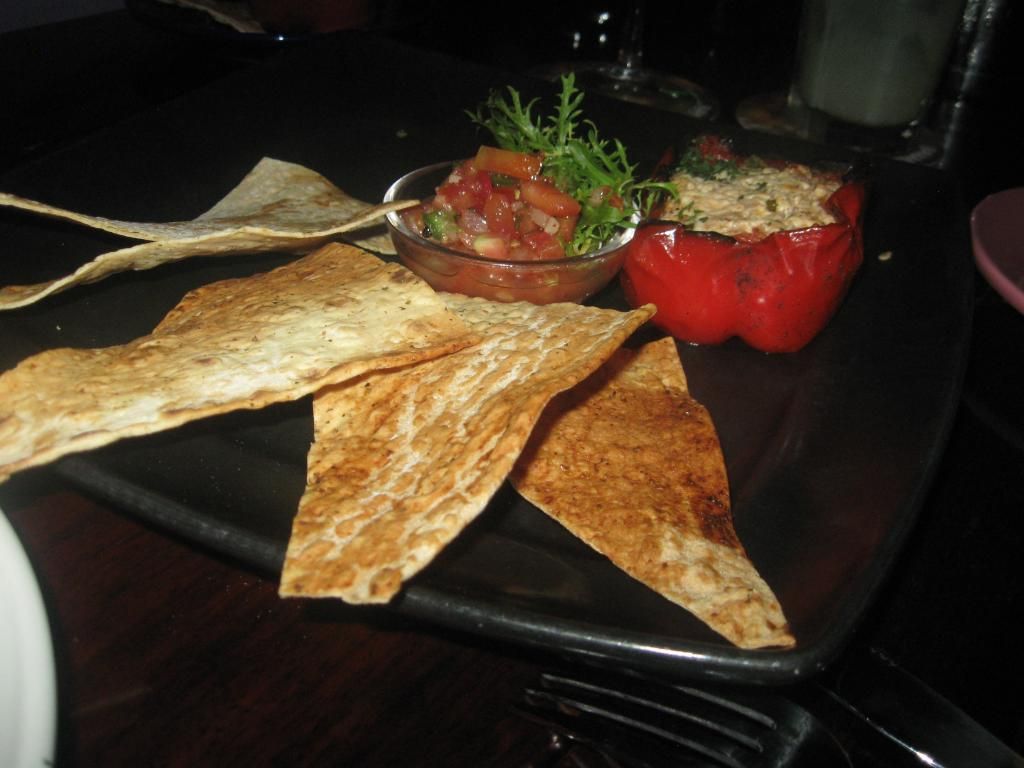 The atmosphere too is lovely.  Cocktails on the deck, listening to the resident musicians are a lovely way to either start or end your meal, kicking back enjoying a nice cocktail (or Diet Coke if like me you are the one driving).
Mannys
This is a decent drive down the 27 from the WDW area, but we made the journey and had a real dining experience.  Again, this has none of the sterile replication that a chain can sometimes have.  This is a true one off; with lots of character and unique elements that draws a big crowd.  This was one of the few eateries that involved us waiting for a table, which speaks volumes of its popularity.
My eldest daughter ordered Chicken Fajitas, only to discover that Wednesdays is buy one get one free on Fajitas.  Yes, they did bring two lots and she tried her best to make a dent in them.
Many of the dishes start with the endless salad, which is a delight, and could quite easily be a meal in itself.  Needless to say we struggled on to the entrees and I'm ashamed to say a dessert too.  You know a cheesecake is good when no matter how full you feel you battle your daughter's fork to get as much of it as you can.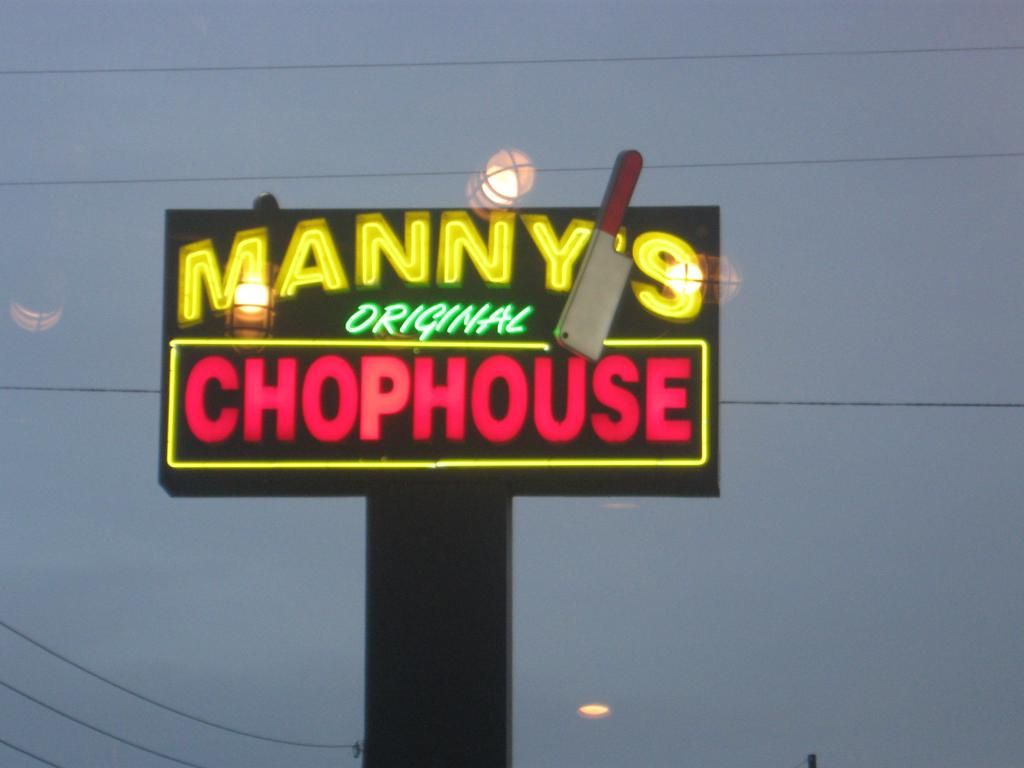 Outback Steakhouse
I really wish this chain would turn up in the UK!  This is typically our first port of call after landing in the US.  The complimentary bread is unusual and delicious and of course the signature Bloomin' Onion and Cheesy Fries are appetisers to die for.  If you eat all that and then a meal too, then yes you may well die.
We have tried nearly every dish on offer and have yet to be disappointed.  A relaxed casual atmosphere, with friendly staff and great food.  What's not to like?
Even the salads are filling!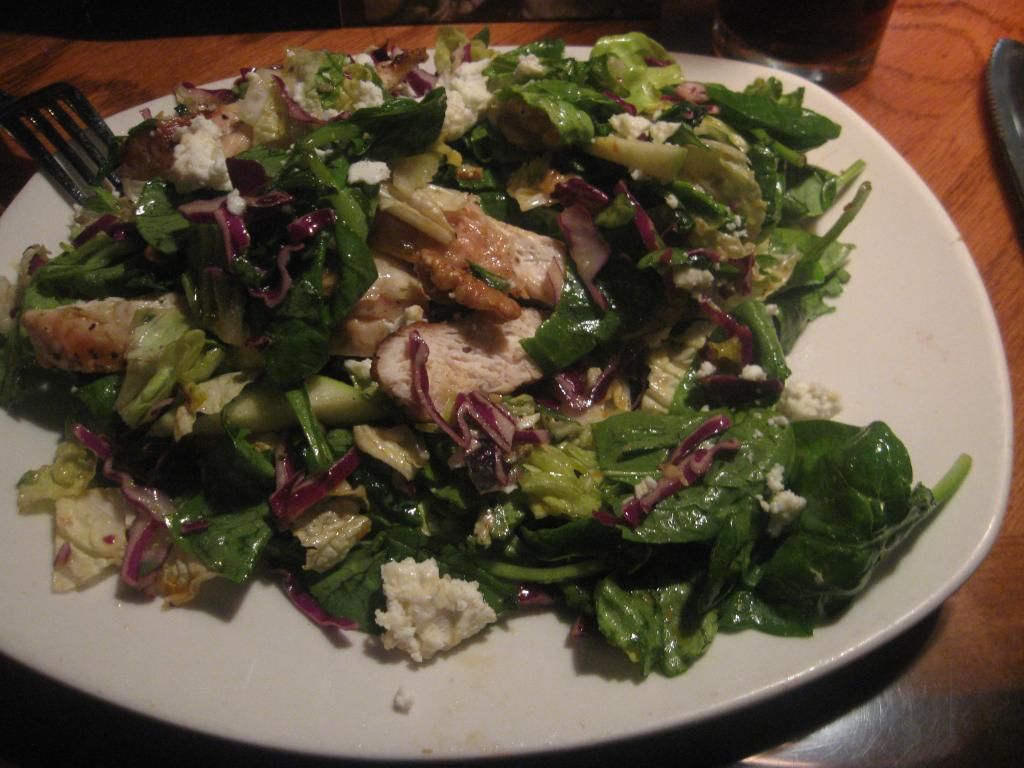 Honourable mentions must also go to the Olive Garden, Romano's Macaroni Grill and the Market Street Café at Celebration.  The latter serving the most wonderful Banana Crème Pie I have ever tasted.
No wonder the scales did not approve on my return!